2013 is turning out to be a busy year.
Eclectic doesn't even being to describe it! So far I've played a Viking in Hammer of the Gods, appeared in an episode of Law & Order UK, popped up in my first web comedy, Bamboo (due for release on BBC 3) and after treading the boards for the first time ever with my husband, Michael Brandon in Love Letters, we have now embarked on a new dance show,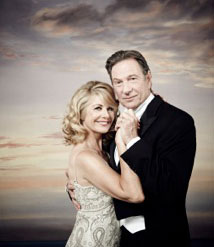 Stepping Out for ITV. The twist is that instead of dancing with a lovely sequinned buff pro….you dance with your other half! Enough said? And of course the somewhat challenging journey has all been filmed. There is a bit of shouting involved...well quite a bit actually!
Later this Year...
Endless Night, a Miss Marple film for ITV. Fabulous cast and fabulous 1950s costumes.

An episode of Casualty in the latter part of October and next year a brief appearance in Tom Cruise's movie The Edge of Tomorrow.